Agriculture, the backbone of our nation, holds the key to feeding the world's growing population. If you have a passion for farming, sustainability, and innovation, pursuing a B.Sc. in Agriculture from Sai Nath University is the ideal pathway to realize your dreams. This four-year multidisciplinary course equips students with the knowledge and skills needed to excel in the agricultural sector and opens the door to a myriad of exciting career opportunities. Let's explore why enrolling in the B.Sc. of The agriculture program at Sai Nath University is a decision that will pave the way for a rewarding and fulfilling future.
Course Information:
The B.Sc. The agriculture course at Sai Nath University is designed to prepare students for higher education and diverse career prospects. Over the four-year program, students delve into a variety of scientific, technical, and business subjects relevant to modern agriculture. The curriculum fosters an understanding of efficient food production, sustainable farming practices, and the agricultural-food industry's vital aspects. Graduates of this program are known as "Agriculturists," possessing the expertise to contribute significantly to the advancement of the agricultural sector.
AGRICULTURE | MCA | BCA | B.ED | D.EI.ED | B.SC+B.ED | BA+B.ED | B.ED+M.ED | M.ED | ENGINEERING | LAW | MBA | BBA | NURSING | BP.ED | D.P.ED
► Specializations Offered:
Horticulture
Poultry Farming
Plant Science
Food Science
Animal Science
The first two years of the program focus on building a strong foundation in core agricultural disciplines, including agronomy, soil science, plant breeding, and entomology. Students gain insights into crop cultivation, agricultural engineering, and agricultural economics, laying the groundwork for specialized studies in subsequent years.
► Practical Learning:
Sai Nath University places a strong emphasis on practical learning. Through hands-on training, research projects, and field visits, students get valuable exposure to real-world agricultural practices. This practical approach nurtures their problem-solving abilities and fosters innovative thinking.
► Industry-Relevant Curriculum:
The B.Sc. The agriculture program's curriculum is carefully curated to align with the latest industry trends and advancements. The emphasis on modern techniques and technology equips students with the skills required to tackle the challenges of contemporary agriculture.
Experienced Faculty:
The faculty members at Sai Nath University are experts in their respective fields, with vast knowledge and experience in the agricultural domain. They guide and mentor students throughout their academic journey, nurturing their passion for agriculture.
State-of-the-Art Facilities:
Sai Nath University boasts state-of-the-art facilities, including well-equipped laboratories, modern classrooms, and extensive farmland for practical training. These facilities offer students an immersive learning experience, enhancing their understanding of agricultural practices.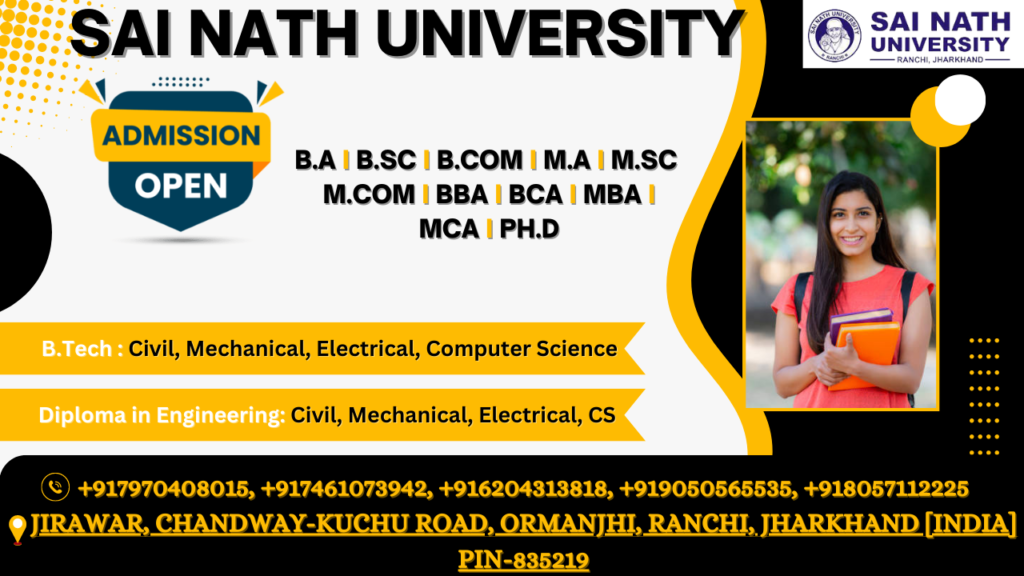 ► Entrepreneurship Support:
The B.Sc. Agriculture program at Sai Nath University instills an entrepreneurial mindset in students. By offering entrepreneurship development programs and support, the university encourages students to explore innovative agricultural ventures.
► Global Exposure:
Sai Nath University provides students with opportunities for international exposure through student exchange programs and study tours. This exposure allows students to gain a broader perspective on global agricultural practices and enhances their cross-cultural communication skills.
Industry Collaborations:
The university maintains strong collaborations with agricultural industries and organizations. Through guest lectures and industry visits, students gain exposure to the latest advancements in agriculture and network with potential employers.
► Personalized Career Development:
Sai Nath University's dedicated career counseling and placement cell provide personalized guidance to students. They receive support in resume building, interview preparation, and networking, ensuring they are well-prepared to face recruitment processes.
Affordable Course Cost:
Sai Nath University offers the B.Sc. Agriculture program at a competitive course cost, making it accessible to a broader range of aspiring agriculturists. With a focus on quality education and practical exposure, the program provides excellent value for your investment.
Future Prospects:
Agriculture offers a vast array of job opportunities, ranging from horticulture, poultry farming, and plant science to soil science, food science, and animal science. As an agriculturist, you can make meaningful contributions to enhancing food quality, promoting sustainable agriculture, and addressing global food security challenges. Horticulture, dairying, and poultry farming are additional lucrative agricultural activities that promise attractive returns.
Conclusion:
Embarking on a B.Sc. in Agriculture in Sai Nath University is an opportunity to become a changemaker in the agricultural sector. With a comprehensive and industry-relevant curriculum, experienced faculty, state-of-the-art facilities, and a focus on entrepreneurship, Sai Nath University prepares students to excel as agriculturists. Embrace the green revolution and contribute to sustainable food production and the well-being of our nation. Enroll in the B.Sc. Agriculture program at Sai Nath University to cultivate a bright and promising future in the field of agriculture.
For More Blog:- product magnate